Ask any design and development expert and they can easily describe what a web app is. However, that's not the case for most people especially if they're not that tech-savvy. Luckily for you, we are here to help you take a much closer look at what web apps are and what advantages they can bring.
We are ZXSCRIPT, a team of talented freelance full stack developers that has more than 10 years of irreplaceable industry experience. We are set apart by our commitment to building long-term working relationships with clients all over the world — and we are here to help you differentiate what a web app is.
First and foremost, a web app is specially designed to encourage end users to interact and explore. Contrary to websites that only display static content, web apps enable the users to personally manipulate the data or content.
Just like websites, a web app requires an internet connection but also needs authentication to be manipulated. Essentially, web apps are much more complex compared to websites and they've proven to rack up longer engagements.
We may be a small team but over the years, we've had our fair share of web app development projects, and one of our most recent ones was just reviewed on Clutch.
For those who don't know, Clutch is an independent B2B review and rating platform that compiles helpful industry data for millions of browsers to see. The website has a huge collection of content like client reviews, research-driven articles, and agency rankings.
Our team's web app development project for a financial products platform was recently reviewed on Clutch. The owner of the company personally wrote the review that boasts 5-star ratings.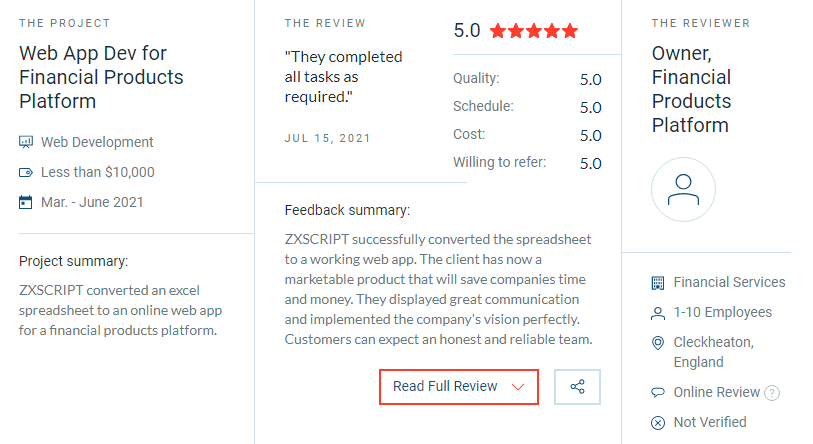 The ZXSCRIPT team created a bespoke web app by converting our clients' working Excel spreadsheets. Based on the client's words, the end result was marketable and will surely help cut costs and boost efficiency. Compared to our other reviews, this one is quite concise but it genuinely encapsulates how effective we were and how big the web app development project was for them.
If you're interested in seeing the full review, you may check our Clutch profile. With that being said, we are glad to have our project reviewed and highlighted. We hope to see more reviews on our past and current projects on the platform soon. Web applications aren't for everybody but that doesn't mean there's no solution for your complex needs. Problems that are too difficult to be solved by websites, apps, or web apps can be handled by software.
ZXSCRIPT is also a top-notch software development company, and that's proven by The Manifest's 2021 development research. The Manifest is an established business news website that curates industry leader lists, publishes how-to guides, and provides extensive B2B wisdom.
According to The Manifest, ZXSCRIPT is one of New York City's top 100 software development companies. We may be small compared to other firms but our services remain unmatched. This ranking from The Manifest and our clients' reviews prove that we deliver great quality outputs.
Looking for the perfect team that delivers? Your search is over because we're here for you. Reach out and let's connect. Schedule a free consultation with one of our developers and let's discuss how we can bring your ideas to life.
Anna Peck Aug 11, 2021
Next article "Ultimate Beneficial Ownership Calculator" >>